Last challenge: What do you do with your race medals?  Show us. Even if you get rid of them, show us that. 
This week's challenge at the end.
---
MagMileRunner: I recently won a medal holder from Duck on the Run's charity raffle, which is what made me think of this topic for the photo challenge. I've entered tons of medal holder giveaways, because I've always wanted one, but I'm too cheap to shell out my own money for it. I used to hang my medals on the knobs of a wire shelf we have in our "office." Since I live with my parents and don't want to drive nails into their walls, right now the medal holder is holding my medals, but laying flat on the top of a bookcase in our "extra" room. But it's the Cityscape-Female medal holder from Allied Medals.
---
Kelly the Culinarian: I put a lot of thought into what to do with my medals. Medals are incredibly important to me. I worked hard for these tokens, and I want to be reminded of what I'm capable of and what I've accomplished. Last fall I set up an ego wall in my workout area, featuring old bibs, photos and motivational posters. I didn't want to sink a ton of money into a project that commemorates me. This is a do-it-yourself project that turned out well. I picked up a set of hooks, frames, magnetic strips and a dry erase board from IKEA. I think I spent about $20 on the whole project, which is money well spent.
---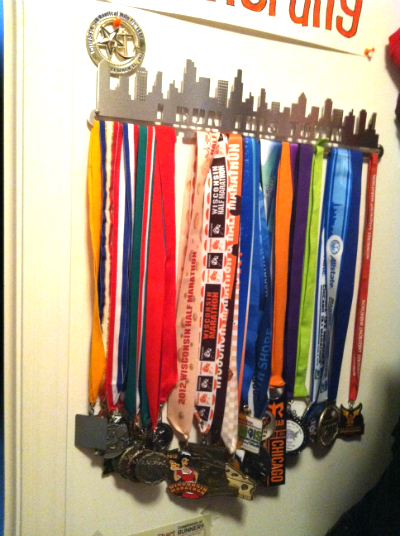 Ilax Studio: I've only been racing (and placing) for about four years so I don't have many medals. Right now, they all fit on one medal holder, which I won from Kayla last year. My medal holder is in my closet. I think it should be the first thing you see when you walk in the house, but… yeah. It's in the closet.
---
Eri-thon: This is the very first race medal holder I ever got.  I showed the website to my mom shortly after the 2010 Chicago Marathon and she ended up buying me this medal hanger for Christmas.  Until then my medals were just hanging on the door handle of my home office. I very quickly outgrew this medal holder, though.  Running 30 races in one year will do that to you. So, towards the end of 2011 I was gifted with two more medal holders.  My mom gave me one, and Kim gave me a custom one. I have all three hanging in my office at home.
---
The Lakefront Trail: I put four of my race medals in a shadow box recently.  My three completed marathons (Chi, LA, NY) and my 1/2 marathon (Indy Mini) P.R. medal. The other 40 odd medals are in a storage bin in the basement.
---
Too Tall Fritz:
When I walk in the door after a race, the first thing that happens is the kids attack me for my goodies. Aby is usually wearing my race shirt before I unpack my bag, Michael is wearing my medal or has put it around the neck of one of the dogs, and the memorabilia becomes lost to me sooner rather than later. So today, I went on a quest to find a few of my medals. After I trip over them a couple times, I eventually pick them up and there are a few default locations in which I started to look. The stair banister is a favorite spot to hang them once I find them … Go read her full post with more pictures, it's hilarious.
---
Pain is Nothing: My medals are housed in a lid of a shoe box which is on a shelf in my closet (close to a folder which has all of my race bibs). Honestly I dont know what to do with all of them. If i hung them all up, I think it would tear the wall down. This is a fairly heavy box. What's in this box? Read more.
---
Nicole: This is by far my favorite submission! Last Christmas she decorated a tree using her 2011 race medals as ornaments! Love it!!
---
David: Keeps his in a running stuff drawer. 
---
Running Kellometers: What do I do with my race medals? Something pretty anti-climactic to be honest. The day I get them, I wear them around the house, and out and about while running errands (the folks at the gas station probably think I'm crazy). Then, I fold them up nicely and put them in a drawer. I've been meaning to get one of those cool medal holders but haven't done so (yet)…
---
Get to Goal: I used to hook all my medals on the handle of a door to a curio cabinet. Just a few weeks ago, I came across my coat hanger on the front of the closet in the living room. There weren't any coats on it since it's summer and I thought it looked like a perfect place to display my medals! More people notice and comment on them there too.
---
This week's challenge: Your running group. Who do you usually run with? A running club? A group run at a store? A buddy? Your dog? No one? Whatever, take a picture of it, even if it's just you looking lonely. 
I think I'm going to stick with a 2-week photo challenge. So post/submit photos by July 2.