Last week's challenge: Your worst race. Not necessarily your worst race photo, but a photo or representation of your worst race to date. It can be a photo of you before, during or after the race, or if you don't have one, something that represents the race (maybe your bib, shirt, medal). And an explanation of why it was your worst race. 
I think I scared some people off with this challenge. This week's challenge is much nicer. It's at the end of this post.
---
MagMileRunner: The 2010 Hot Chocolate 15K was my worst race. I was really looking forward to it – it was my second attempt racing a distance longer than 5K, and after my near train-wreck first half marathon, I was hoping this race would be a little bit of a redemption. I trained a bit better (at least, I was more consistent), so I wasn't worried going into it. I occasionally had pain in the outside of my knee while training, but it usually went away after a minute or so, so I never thought anything of it. Well, halfway through this race, I got that pain again. And it didn't go away. Running was really painful. So I walked. It never occurred to me to drop out of the race, I just walked the 4.5 miles to the finish and had a pretty disappointing time. This picture is me attempting to at least run over the finish line, but that was really painful, so I'm actually grimacing. By then it hurt to even walk. I'm pretty sure I cried as I finished, I was so disappointed. After talking with BFF Ultra Vera later that day, I'm pretty sure the culprit was a tight IT band, and I've embraced the foam roller ever since and have never had that pain again. Also, my bib looks like a loin cloth.
---
Gingerfoxxx: To date (this was submitted May 17), the worst race i have ever run has been the 2011 Schaumburg Turkey Trot Half Marathon. I think the real killer for me in this race was myself.  I was mentally exhausted, and had been wanting a break from running, and i didn't give it to myself.  Instead, I kept pushing to make an unrealistic goal.  Half way through this race, i had a complete mental breakdown.  I didn't just start pouting, i started balling my eyes out, and had to sit on a rock for a minute and just cry.  In the rain.  It was a misery I had not experienced before, and could not cope with.  I hated running at that moment because i wasn't having fun anymore.  I eventually started running again and finished the race (after people kept asking me if I was hurt) and you can see in the picture that even though I am smiling, my face is red and puffy from my sob session.  I didn't run again after that for a month.  Lesson learned – When your body demands a break, give it a break.  None of us are Olympic athletes.  This isn't our job, it's our reward.  It should be fun.  It's also okay to cry – just don't wear mascara (ouch.) And make sure you eventually finish the race.  More.Note to Gingerfoxxx: In honor of the Rockford Marathon, in the future I will have a "race most like a death march" challenge … 
---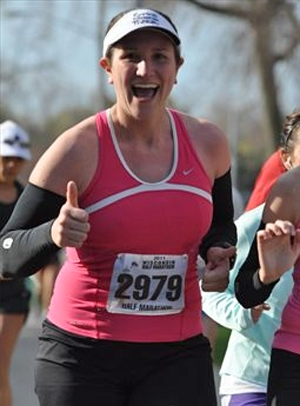 Ilax Studio: Somehow, in the winter of 2011, I convinced Erin that we needed to run the Illinois Half Marathon and the Wisconsin Half Marathon on back-to-back weekends. The problem (besides this being a stupid idea) is that my IT Band was bothering me for first half marathon, so by the time we got to the second one, I was in a lot of pain. At mile 3, I thought "I really should not be running this race." But I wanted my medal. So I stuck it out. It sucked that I could not keep up with Erin because my leg was bothering me. And I was depressed for most of May and June. Yeah. Races from those months were not stellar. So now you know why I was so happy the race went so well this year! And this race also holds my favorite race picture (2009) from last week's question. Ha ha.Lesson learned: None. I would still have run this race to get my cheese medal. More.
---
Running Kellometers: The answer to this one was easy! The Chicago Marathon 2011. I wasn't properly prepared hydration-wise. I didn't have a proper fueling plan. I let the my mind overwhelm my body while trying to prepare. I didn't have a plan b. Anything other than my time goal was failure. I didn't adjust when things needed adjusting. BUT, I learned so much from the experience. Not only about myself, but about running and life in general. I think I am a different person and a different runner because of it. It is okay to not meet your goals sometimes. It is okay to fall short of everyone and your own expectations. If you finish a marathon, you are not a failure. It took me a long time to realize this and I'm glad I did. 🙂 More.
---
Out and About: The 2011 Magellan Development Chicago Spring Half Marathon.  (Try saying that five times fast.) It's not a coincidence that my medal from that race is being modeled by a giant penguin.  The weather conditions on May 15, 2011, were suited more towards penguins.  The winds were brutal, coming at us at 30-40 MPH.  Unfortunately, the course was right on the lakefront so there was nothing to blunt the force of those winds.  The temperatures were the 30s and it was raining/sleeting sideways.  It stung my eyes so much that I was literally trying to run hunched over 90 degrees.  It was hard just to walk, let alone run. At the time I didn't know much about fueling during races.  I'd never really heard of GU or Shotbloks or any of that stuff.  I ran the entire half marathon just on water and a cup or two of Gatorade.  Needless to say, I wasn't feeling very good during the latter half of the race. Add to these brutal conditions that my left knee had been bothering me for several weeks leading up to the race.  I had gone in to get an injury screening a few days in advance to assess whether or not I was healthy enough even to run.  I did get clearance, but was told to be cautious and to stop or slow down if it hurt.  However, as it turned out, I was so cold and wet during the race that my legs were too numb to feel any pain.  In retrospect, this was probably not a good thing because afterwards I was sidelined for almost four months rehabbing my knee. They say that whatever doesn't kill you makes you stronger, right?  In short, the aftermath of this race in combination with my knee injury taught me a heck of a lot about my body's limitations.  It taught me the importance of proper fueling, stretching, and working on ironing out those muscle imbalances.  Most importantly, it taught me that I am not a machine and shouldn't train like one. More.



---
Eri-thon: Soldier Field 10 Miler 2011. That's me in the red tank top.  I don't know what it was about this race, but my heart wasn't in it.  And afterward my hip hurt so bad it was the first time I was really worried about what I'd done to it.  I think it was my horrible form on that day.  I mean, look at me in that photo. Ugh.  Anyway, the Soldier Field 10 Mile race is this weekend and I'm not sad at all that I'm not running it.
---
This week's challenge: Your favorite "seen on my run" photo. It can be a photo of anything (person, place, thing, graffiti, animal, cloud formation, etc), as long as it was something you saw while out on a run. 
Photos submitted by the time I go to bed on Monday, May 28 will be included in the round-up post on Tuesday.