Thanks to everyone who participated in last week's photo challenge. The theme:
Why do you run? What is the main reason? We all have multiple reasons why we run (physical and mental health, friends, competition, etc), but what is The One main reason you keep lacing up and getting out there? This is a little open-ended, so have fun with it! Be creative.
See the end of this post for this week's runner photo challenge!
---
Mag Mile Runner: I run because I have two healthy legs, two healthy lungs and a healthy heart. I run because I never want to take my health for granted. I know there are people who can't run, for whatever reason – disease, disability, injury. I know that my health is a gift, and someday, it might be gone, and I won't be able to run. I hope that day never comes, but in the meantime, I want to enjoy this as much as I can. I run because I want to see how hard, how far, and how fast I can push myself. It's the reason BFF Ultra Vera runs ultra marathons. And she's inspired me to see how far I can go.
---
Running Kellometers:When thinking about why I run, there are lots of different reasons. I think the most fun reason though has to be food. I love food (who doesn't) and I have a big sweet tooth. Cupcakes and Sour Patch Kids could be their own food group in my opinion. I run so I can eat the foods that I love and enjoy. Food trucks are something new that I discovered (thankfully) during marathon training and I've been hooked ever since. Want to know some of great food truck offerings in Chicago? Just ask me. :)Photos: (clockwise) Pink Velvet Cupcake from Cupcakes for Courage, Pecan Sticky Bun from Bleeding Heart Bakery, Buffalo Chicken Mac and Cheese from The Southern Mac and Cheese Truck
---
Out and About: Here's the symbolism behind this picture … Cookie: Running allows me to feel less guilty about downing chocolate desserts or other good eats that don't show up on the food pyramid. Monster: Running calms me down and centers me, and allows me to think more clearly. I am more likely to exhibit monster-like behavior when I am run-deprived. Blue: A good run always helps ward off any "blue" feelings. Sesame Street: My runs are short times in which, like a child, I can just enjoy myself, let loose, and listen to whatever random music I want to.  No concerns about being sweaty and unkempt, and no worries (albeit temporarily) about grown-up stuff like deadlines, performance reviews, or whatever broke that day. More.
---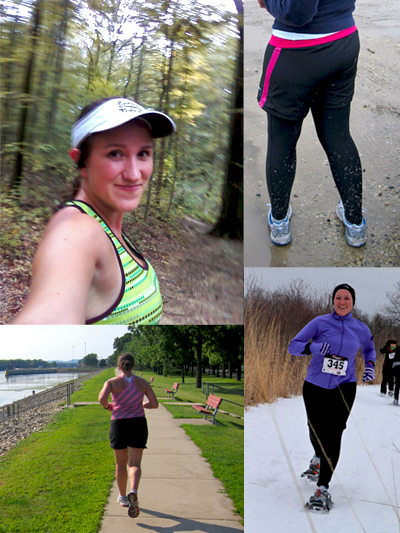 Ilax Studio: The main reason I run is to satisfy my innate need for adventure and exploration. I feel like I have to get out there and explore the world around me – I need to know what is out there! And there is something about exploring a new-to-me (or old-to-me) place on foot that really gets me excited. When I had to go to Louisville a few times last summer I ran all over town. I actually (surprisingly?) learned a lot about the city that way and loved every minute of it. More.
---
My Life's List: I've been tracking my race results through Athlinks pretty much since I first started running the occasional 5K, and I really think it's kept me signing up for more races ever since. It allows me to track my PR, average pace, and see how much better or worse I get from race to race. This is a great motivator to keep me running and improving. It's a history of just how far I've come as a runner [and] a great reminder after those really rough runs. It lists all the states where I've run races. This was the thing that gave me the idea to some day try to run a race in every state. [And] it's a list of every race I've ever run! And we all know how much I love lists! Instead of crossing off of this list, every time I run a race, I get to ADD to the list, and it's been really fun to see my race list getting longer. More.
---
Eri-thon: When I was in college I hated to sweat.  I sweat pretty easily.  So much so that I didn't wear make-up for those four years because I would sweat it off by the time I finished walking to class. Something changed, though, when I graduated and got out into the "real" world.  Suddenly sitting at a desk or milling away on the elliptical at the gym weren't cutting it for me.  I wanted to feel like I'd done something after a workout.  I wanted to feel accomplished. Enter sore muscles and sweat. More.
---
Gingerfoxxx: I KEEP running because i can. I'm not sick yet. I'm not dead. They could find a cure tomorrow, and then wouldn't i feel stupid if i wrecked my body. Or we could ALL die tomorrow, in some kind of freak apocalyptic disaster. Or zombie's could rise up and take over the world, and i would be one of the few survivors because i DO run. Maybe it turns out that my body is so constantly tired from all the running that it just doesn't have the time or the energy to get sick and die. Thats the whole point is that we don't know. We don't know what will happen tomorrow, we don't know what will happen next year, we don't know what will happen 10 years from now. So we have to do our best today, because its basically all that we DO know. I know that today i have my health, i have legs, and they work (mostly.) More. 
---
This week's theme:
What is your favorite running "thing"? Something that you either HAVE to have for every run or race, or something you don't always have or use, but look forward to eating/using/wearing before, during or after a run. Maybe it completely changed your running, or is something you just really like. It can be something you wear, something you eat, something you use (in reality or digitally), etc, but it has to be a thing. 
Leave a comment below with a link to your photo challenge submission, or email it to me at mag@magmilerunner.com. Submissions received by Monday evening (May 7) will be included in the round-up post next Tuesday (May 8). Have fun!!