Thank you to everyone who participated in my first photo challenge! This week's theme is at the end of the post.
Last week's challenge was a picture of memorabilia (bib, shirt, medal, trophy, etc – can be just one thing or multiple things) from your favorite race. Include an explanation of why it's your favorite race. It was fun to read everyone's posts/submissions! Here are excerpts.
Mag Mile Runner: I loved the 2011 Rock 'n' Roll Chicago Half. I do enjoy local smaller races, but what I truly love are huge big city races, especially when the course goes through the city of Chicago. And to me, the half marathon distance is perfect – it's a challenge, but it's attainable. What also made this specific race a favorite is that it was the first half marathon I enjoyed from start to finish. My very first half was a little rocky (because I  didn't understand how to train properly), so I was a little nervous about the RnR Half, even though my training had vastly improved. I ran the race with my cousin, and we kept a manageable pace and I truly enjoyed every mile.
---
My Life's List: The Disney Marathon is probably the race I am most proud of. While my time was atrocious, the race itself represents so much to me. In about a 6 month time frame, I went from essentially being a non-runner, to completing two half marathons, and signing up and training for a full marathon. All in the same year I was diagnosed with asthma, too! And the fact that I trained for the full marathon pretty much on my own, without a training group or even a training buddy for most of my runs, was nothing short of a miracle. […] To me, this was the true symbol that I really can do anything I put my mind to. More.
---
Out and About: Beyond the thrill of meeting such incredible sports legends in person, it was so much fun to be surrounded by other Chicago sports fans/runners just like myself at the inaugural Home Team Charity 10K. It was also awesome to see some of the race outfits (full-body Zentai suits, lots of jerseys, and even a man wearing a goalie mask). The festivities and race details were so unique and were perfectly suited to my interests. All in all, the Home Team Charity Run was truly the most fun I've ever had at a race, by far. More.
---
Eri-thon: In September 2007 I ran my very first 5K, the Women's Fitness 5Kin Urbana, IL. […] I crossed the finish line in just over 33 minutes. I had no idea if that was good or bad. I just knew I wanted, no, NEEDED to do it again. I stood at the post-race awards ceremony chatting with another member of the Beginning Women's Running Group."Look at all these other runners!""Some of them run marathons! Would you ever run a marathon?""I don't think so. A 10K or maybe even a half marathon. But a whole marathon?"How little I knew back then. More.
---
Pain is Nothing: I had never run a race as far or as big as [the NYC Marathon in 2002]. It was seriously incredible! Our wave shuffling to the start while Frank Sinatra's "New York, New York" was blasting. Thinking about that moment – the start of my 1st 26.2, still gives me goosebumps. Running over the 1st bridge, the Verrazano Narrows bridge was so crazy cool. […] Getting into Central Park was spectacular. When I saw the countdown to only a half a mile to go, I sprinted it in to the finish. It was such a thrill. Seeing all of the Burroughs of NYC, all of the ethnic neighborhoods, was so awesome. I could probably write a super long post about all of my NYC memories, because even after 10 years, the smell of hot dogs at mile 23 (along with 100 other memories) is still so fresh in my mind! More.
---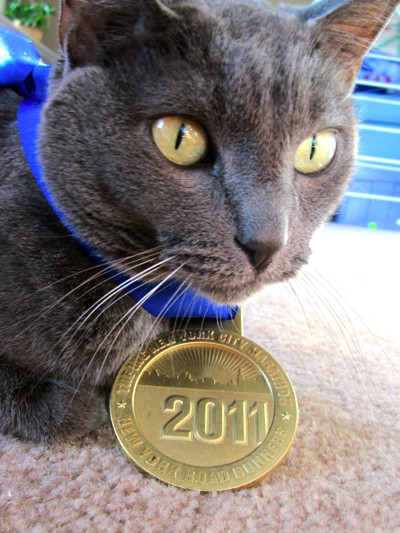 Kim – Ilax Studio: Hands down, my favorite race is the New York City Marathon. And not because I PR'd, or because it was my best race ever, but because it showed me the true spirit of running, and the amount of support I have in my life. I got in to the NYC Marathon via lottery. Opening Day was 4/27 last year. It was the same day my NYC bff (Gina) had her son, and a day before my grandpa passed away. I really felt like someone was watching over me that week. That is kind of hard to explain, since I am not very religious. But it's just a feeling I had. More.
---
Kelly the Cullinarian: [Napoleon is modeling] the medal from the Big Hit Half Marathon, which I ran last fall with Rachael. This was a meaningful and fun race, with Rachael and I enjoyed a ton of delicious food on our little road trip to Louisville. At this race, I proved to myself that I am a runner. I followed a training plan, I fought through the pain and I met my goal. No one else could have done the work for me. I earned this medal, and I wore it all day. More.
---
Red Runs: [The Chicago Polar Dash] was what jump-started my true love of running. Before this race, I had done one 5k with no training. This was my first race that I "trained" for. I use that term loosely because I was just running on a semi-regular basis. In fact, this race also jump-started this blog. It was also my most comfortable race… what? It was some 30 odd degrees & my feet were soaked within the first .25 miles. I think it had something to do with the cold air, the excitement, & the sure number of miles I was to run for the first time ever. More.
---
Running 
Kellometers: When thinking about my favorite memorabilia, I had a difficult time deciding. I am a huge fan of the Shamrock Shuffle shirts (most years), but I wanted to think of something that really meant a lot to me. When thinking about it from that perspective, I instantly knew my choice – the Grand Rapids Marathon. We received dryfit shirts that are really soft and have a logo on the front and side. The medal has a colorful ribbon attached and part of the medal was cut out. I think the most important thing about this race is what the medal represents – my first marathon and all the ups and downs that went along with it. It is my first marathon finish (but I know it won't be the last).
---
Lauren Runs: This is the medal and a "time card" from the 2010 Madison Mini Marathon. […] I used to live in Madison, Wisconsin, and loved the idea of going back for memories and to race. M & I did this race the second year it was held, and I was blown away by many aspects about the race: Loved the "road trip" to a familiar spot, the nostalgia of running along many of my old running routes. I had run almost the entire race course at different points during the time I lived in Madison. More.
---
This week's theme:
Why do you run? What is the main reason? We all have multiple reasons why we run (physical and mental health, friends, competition, etc), but what is The One main reason you keep lacing up and getting out there? This is a little open-ended, so have fun with it! Be creative.
Leave a link to your post in the comments, or send your photo to me via email (mag@magmilerunner.com). Submissions received by Monday evening (April 30) will be included in a round-up post next Tuesday.